If you live in the suburbs or the city, you are likely familiar with raccoons. This specific animal likes to be in areas with people because food is much more accessible. As any wildlife control expert can explain, while raccoons prefer to eat insects and frogs, they will forage for whatever is available. More often than not, garbage cans and dumpsters are filled with many edible goodies. Raccoons are prevalent in metropolitan areas and neighbourhoods, and you likely have never come across the albino raccoon, but they exist. Our Skedaddle team in Niagara shares more about these rare but beautiful animals.
Rarity
The odds of seeing an albino raccoon are about one in 750,000. For those familiar with the statistics, you have a better chance of being struck by lightning. Only about one in every 10,000 to 20,000 raccoons is born with an albino mutation, so these low odds are not that surprising.
Size
Other than their colouring, albino raccoons are the same as any other raccoon. If they live to full maturity, they will be between 23 and 37 inches and weigh somewhere below 23 lbs. However, albino raccoons often have other health issues because of the genetic mutations in their systems.
Lifespan
While an average raccoon can live to be around three years old in the wild, most albinos are not so lucky. Many of the white-pigmented raccoons won't live past their first year of life because of health complications or because they fall victim to a predator. The white fur, lack of camouflage, and pink nose and eyes make it difficult for albino raccoons to hide.
Maturity
As with any other raccoon, albinos remain in their den until they are between seven and 16 weeks, at which point they begin to leave the nest. At around 12 weeks, they are completely weaned from their mothers and start foraging. By the time a raccoon, even an albino, is a year old, it is entirely independent.
Habits
All raccoons are nocturnal animals, so it is rare to see them out during the day. They are also unusually clean creatures. If you watch them closely, you will find that many raccoons, including albinos, wash their food and dig latrines. They are incredibly shy and try to avoid confrontation, but they can be aggressive if cornered.
Habitat
For many animals, climate and region are essential to their survival, but raccoons are extremely adaptable creatures. You will find these animals in many environments across North and Central America, Europe, and Japan. This species makes dens or homes in trees, caves, barns, vehicles, or other human-made structures. Albino raccoons, in particular, need to find secure areas where they can hide well from predators.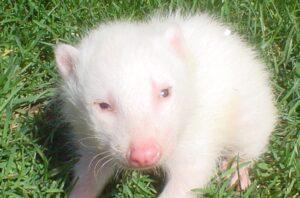 Diet
A raccoon's diet is similar to other small mammals. It is an omnivore, and it eats a variety of fruits and nuts. These critters also enjoy making a meal out of invertebrates such as crayfish and insects. Malnutrition can be a significant threat to raccoons, especially albinos. While many of these foragers can thrive on a somewhat mixed diet, albinos need to maintain balanced eating habits because of underlying health issues stemming from their genetic mutations.
Dangers
Raccoons are not kings of the food chain. They have several predators: coyotes, hawks, owls, wolves, and bobcats, for example. However, their primary threat is humans. People hunt and trap these animals, and albino raccoons are even more susceptible to human predators because their colouring makes them nearly impossible to hide. Also, because raccoons are nocturnal, they are often the victims of late-night car collisions.
Have you seen an albino raccoon? Do you believe you have a den near or under your home? Consider contacting
Skedaddle Humane Wildlife Control in Niagara
 for help. Their experts will assess your property and ensure the safety of both your family and the animal.